Girls in Aviation: Inspiring the next generation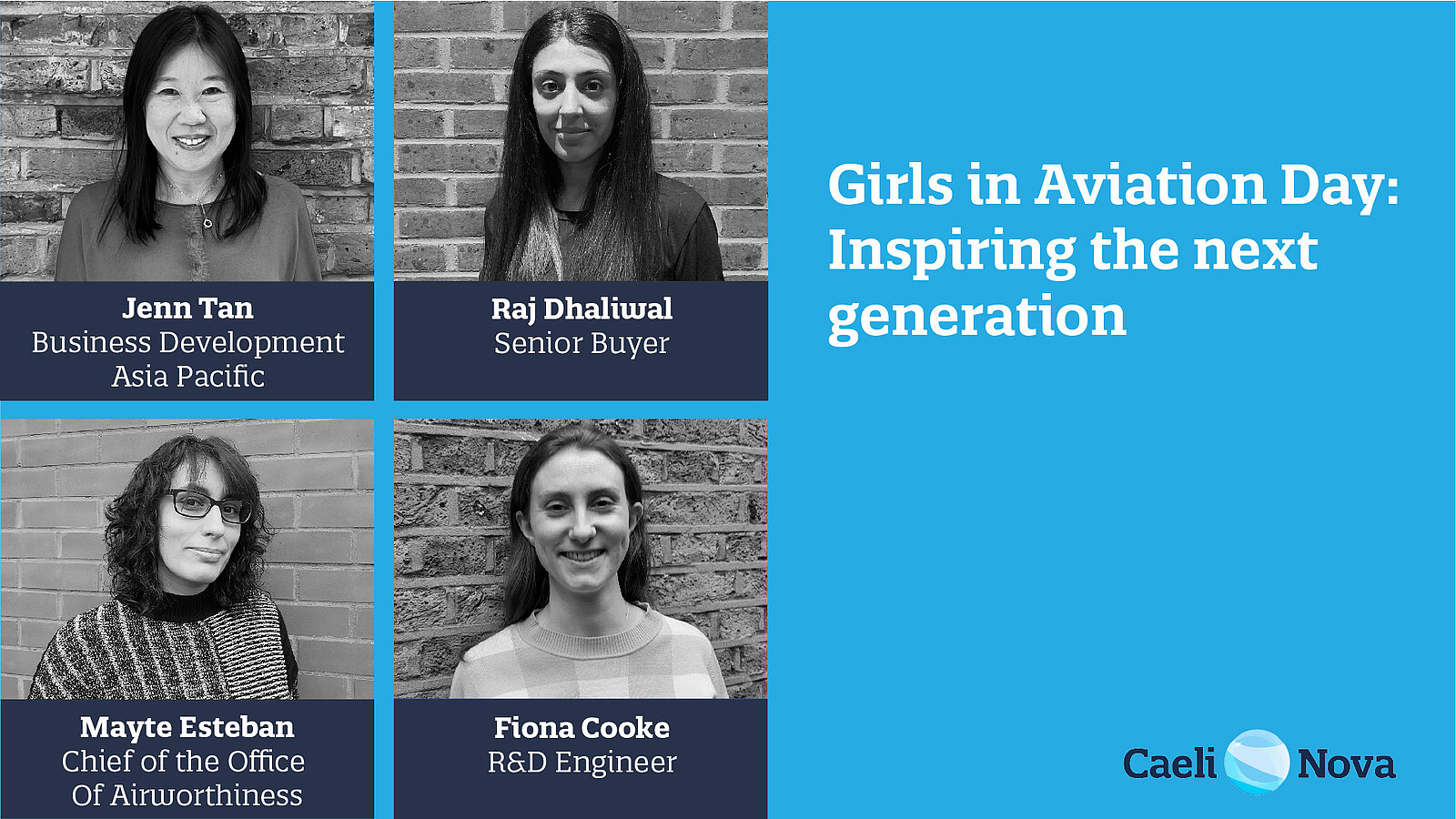 The aviation industry is evolving to have a more inclusive environment for women in all sectors. As a leader in promoting and supporting women to pursue a career in aviation and aerospace, Women in Aviation International (WAI), hosts an annual Girls in Aviation Day (GIAD), which took place on September 24.
As a member of the community, we fully support this drive to encourage girls and young women to join the aviation industry in all fields of interest. At Caeli Nova, we always set out to build a diverse and inclusive team and we're proud to say almost half of our team are women, all of which are great role models for any young woman aspiring to join the industry. In celebration and in support of GIAD we spoke to a few of our women employees in a variety of roles to help inspire the next generation.

What inspired your interest in Aviation?
Jenn Tan, Business Development Asia Pacific: I read about Amelia Earhart when I was in primary school and was extremely proud and inspired by her story. I have always wanted to work for an airline, and I started my career with Qantas Airways based in Singapore.
Raj Dhaliwal, Senior Buyer: Having lived under the Heathrow flightpath all my life, I was always intrigued and captivated by aircrafts and seeing the industry evolve over time from my childhood to adulthood. I was mesmerised by all the different aircraft types and how the house would shake as the Concorde was taking off overhead! As a student I worked at Heathrow Airport and was exposed to how immense and dynamic the sector was which grew my interest into exploring the vast goods, services and functions involved in making travel possible which are not always apparent to passengers.
Mayte Esteban, Chief of the Office of Airworthiness: I was inspired by Pedro Duque (first Spanish astronaut), and the curiosity about the challenges around engineering something that flies!
Fiona Cooke, Research and Development Engineer: I have always been interested in aviation because of all the different teams that are required to work together to produce any aviation products. I am also interested by how much advances in aviation can positively affect people's lives all around the world.

In your role at Caeli Nova, what are you most passionate about?
Jenn Tan, Business Development Asia Pacific: I am excited to introduce Cordillera to the industry. It is a breakthrough technology, and I am very happy to be a part of this ground breaking journey.
Raj Dhaliwal, Senior Buyer: As a senior Buyer, I am passionate about adding value by implementing processes and systems to ensure the business has a robust ERP system as well as developing and maintaining collaborative relationships with our supply partners
Mayte Esteban, Chief of the Office of Airworthiness: I am passionate about advising and leading the team through the processes of certifying airborne equipment.
Fiona Cooke, Research and Development Engineer: I'm most passionate about using engineering and medical trials to show the safety of our product.

What advice would you give a young women considering a career in aviation?
Jenn Tan, Business Development Asia Pacific: Definitely go for it! It is an industry that crosses borders and cultures, brings you to see the world because most aviation businesses are internationally structured. You get to interact with colleagues, clients, partners everywhere around the globe. I think it is one of the few industries that allows you to hone your skills, whatever your interests or field of studies you undertake. It is always buzzing with activities – in day-to-day work, in international expo and conferences, you liaise and meet with contacts who become friends for life because most people never leave once they are in.
Raj Dhaliwal, Senior Buyer: Graduate programmes and internships are valuable in providing an overview of different areas of an aviation business – so don't be hesitant to move around and get as much exposure as possible. There are huge overlaps in aviation and moving around allows you to connect the dots on how different functions and areas are and can be integrated.
Mayte Esteban, Chief of the Office of Airworthiness: If you have a passion for aviation, embrace it! It is a fascinating environment and it is calling for more women to play a big part in shaping its future.
Fiona Cooke, Research and Development Engineer: Discover what your personal strengths are, and look for a company and a position that can help you nurture those strengths. Sometimes, discussing this with someone who knows you well is the best way to realize the areas in which you personally excel.