Caeli Nova named as finalist for Crystal Cabin Awards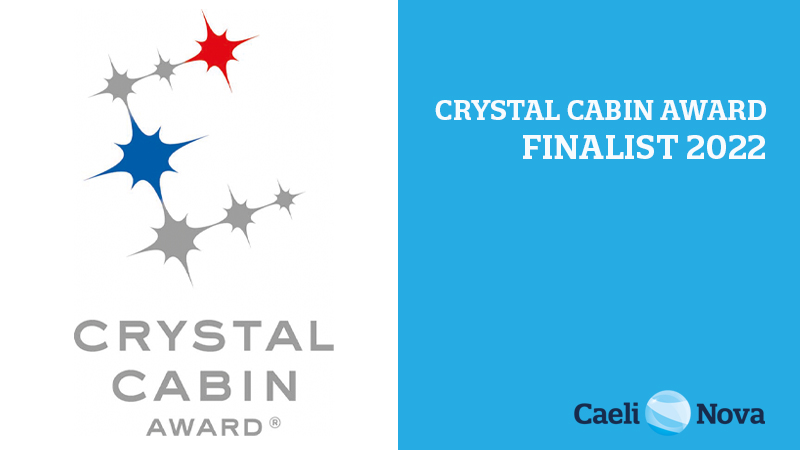 Caeli Nova, breathing technology innovator, has been announced as a finalist in the Cabin Systems category for the Crystal Cabin Awards, for its launch product Cordillera.
The Crystal Cabin Awards is the only international award for excellence in aircraft interior innovation. Caeli Nova entered Cordillera, a trailblazing passenger emergency oxygen system, which can save the aviation industry over $500 million and 1.2 million tonnes of CO2 emissions annually by opening direct routes over high-terrain and reducing reserve fuel on ETOPS routes.

Tim Wakeford, CEO of Caeli Nova, says: "Being named as a finalist in the Cabin Systems category is a great achievement for our team and for our launch product, Cordillera. At Caeli Nova, we're passionate about finding and developing cabin innovations which can drive a disproportionate impact for airlines, their bottom line and their environmental footprint.

"I am proud of our team and of our rapid innovation and product development approach, which has allowed us to make it straight to the finals at our first participation. It is great to be recognised amongst our aviation peers and to be able to show prospective airlines the operational and sustainability benefits that Cordillera will be able to unlock."

Based on medical research and innovative technology, Cordillera removes current limitations of pre-existing oxygen systems by increasing the duration that aircraft can fly at high altitudes after a cabin decompression, from 22 minutes to over 180 minutes, allowing significant operational benefits for aircraft operators.

Caeli Nova will show a final viewing of Cordillera to the judges at the Crystal Cabin Awards on Monday 13th June and will partake in a five-minute presentation to showcase the product and its benefits. Winners will be announced on Tuesday 14th June during an award ceremony at AIX.

For more information on Cordillera, please visit https://caelinova.com/cordillera/cordillera or visit Caeli Nova during AIX at Stand 5C04.

ENDS
Media information:
Chiara Lawrance / Kayla Wilkins
8020 Communications
CaeliNova@8020comms.com
01483 447 380
About Caeli Nova:
Caeli Nova's patented breathing technology improves oxygenation of the human body in demanding situations such as altitude.
Caeli Nova's first product, Cordillera, is an emergency oxygen system suitable for commercial and military passenger aircraft. This key safety system is designed to protect passengers in the rare event of a loss of cabin pressure, while removing most operational constraints and limitations faced by airlines, airframers and defence aerospace today. Cordillera allows airlines to operate shorter flights, with associated reductions in fuel and carbon emissions, and to reduce the fuel reserves needed to be carried on ETOPS flights.
For more information, visit: https://caelinova.com/